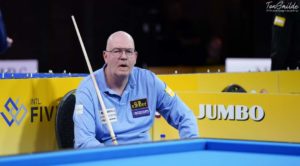 Malheureusement Dick Jaspers a dû se désister ce matin pour des raisons familiales.
C'est Roland Forthomme , Belgique, 23ème au ranking mondial, qui le remplacera et prendra sa place dans les groupes du LBM.
Les horaires et les liens pour les matchs en direct seront publiés sous peu.
——————————————————————–
Unfortunately Dick Jaspers had to desist this morning for family reasons.
Roland Forthomme , Belgium, 23rd in the world ranking, will replace him and take his place in the LBM groups.
The schedule and links for the live matches will be published shortly.